There are some electronic cabinet locks that can be controlled by smart phone. Such as use the TUYA app to unlock the lock. Here are some introductions:
First, learning about electronic cabinet locks controlled by a smart phone involves understanding the technology behind the locks and how they operate.
Second, research the types of electronic cabinet locks available, start by researching the different types of electronic cabinet locks on the market. Look for locks that can be controlled by a phone, and read up on their features and specifications.
Third, understand how the locks work, such as the how to unlock the electronic cabinet lock by phone. You can add user and named it, check the unlock record by TUYA app, timely know the power, remote share the lock permission to other people. This type of lock connects to your phone, you can enjoy the smart phone easily control the electronic cabinet locks.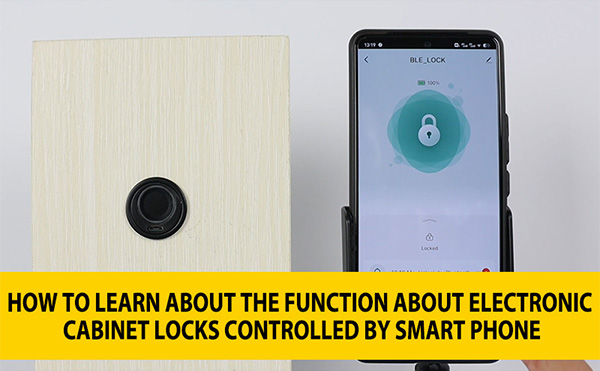 Fourth, the electronic cabinet locks can unlock by fingerprint, password, swipe card and some locks can unlock by smart phone. It is very convenience and quickly, of course, before use the smart phone to unlock the cabinet lock, you should wake up the lock first.
Fifth, it's important to note that the specific features and capabilities of each electronic cabinet lock can vary widely. When choosing a lock, consider your specific needs and preferences, and do your research to find a lock that meets your requirements.
Sixth, pair your electronic cabinet lock with the TUYA app by following the manufacturer's instructions for connecting the lock to the app. This typically involves putting the lock in pairing mode and selecting it in the TUYA app's list of available devices.
Once your lock is paired with the TUYA app, you should be able to see it in the app's list of devices.
The important is the exact steps for unlocking an electronic cabinet lock with the TUYA app may vary depending on the specific model of lock you have and the features supported by the TUYA. Be sure to consult the lock's user manual and the TUYA app's documentation for more detailed instructions.
Connect the lock to your phone, once the app is download, you can connect the electronic cabinet lock to your phone. Follow the app instructions to set up the connection.
Keywords: electronic cabinet locks
Originally published 06 May 2023, updated 06 May 2023.